Greenville Workers Comp Lawyer
211 West 14th Street
Greenville, NC 27835
252-317-4211
*By appointment.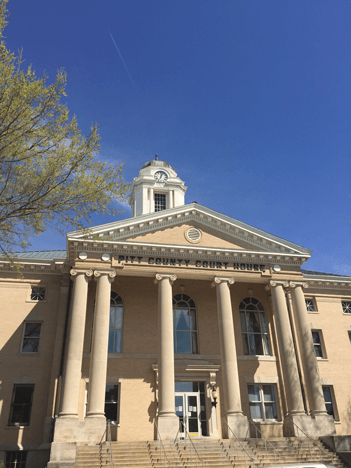 When you have been injured in an accident, you might assume that the facts and evidence supporting your claim are obvious and that you do not need help from a dedicated attorney. You probably have already reported the injury to your employer and assumed that the workers' compensation insurance company will give you the benefits necessary for you to focus on recovery.
If you have recently suffered a workplace injury in Greenville, however, it is strongly recommended that you identify a lawyer who is a North Carolina State Board Certified Specialist in Workers' Compensation law who can help you with this process. There are many different mistakes that you can make early on in the workers' compensation process that could jeopardize your ability to recover a claim.
If the workplace injury appears to be minor, you may not need to hire a Greenville workers' compensation lawyer. If the evidence clearly points to your sustaining an injury on the job or in the course of your work activities, you may have a better chance of having your claim approved. However, more severe injuries can be extremely complicated and may be subject to delays or denial in the workers' compensation process. You cannot always count on the system to protect you.
The Workers' Compensation System in NC Can Be Challenging to Work With
Although no employee should have to find themselves in this situation, it is far too often a reality that a legitimately injured worker is denied Greenville workers' compensation benefits as soon as they apply or sometimes after weeks or months of getting the run-around by the insurance adjuster or employer. Your employer and its insurance company may be counting on your lack of knowledge about the system when engaging in delay tactics or denying your claim.
You may simply want to give up and refuse to move forward. However, it is strongly recommended that you consult an attorney early on in your case, so that you are knowledgeable about your rights and can navigate this complex process with someone who has been there before like the right Greenville workers' compensation specialist.
Any type of complexity in your case including delays in your case or a denial or arguments that your injuries are not as severe as you allege, should prompt you to contact a Greenville workers' compensation attorney.
If the settlement offer provided by your employer does not include all of the medical bills or lost wages, you need an attorney to help you with the settlement process. If your claim has been denied or you fail to get your benefits immediately, you need to consult with an attorney.
Don't Ignore Your Appeal Opportunities
Most workers' comp insurers believe that many workers will fail to appeal and will deny your case out of the gate. Up to 80% of the individuals who are hurt at work will accept the denial of their workers' comp claim without a fight. Hiring a Greenville workers' comp lawyer, however, increases your chances for success without costing you anything upfront. This gives you a much better chance of obtaining a fair settlement for the injuries you have sustained.
Complex Cases Require Experienced Representation
If your medical issues prevent you from performing any work or from returning to your job, you need an attorney to assist you. Permanent total disability or permanent partial disability cases can be very complicated and a Greenville workers' compensation attorney can help you determine your rights in this case.
Another reason to contact an attorney at the outset of your case or when complexity is introduced is when your boss retaliates against you for filing a workers' comp claim. So long as you are within the bounds of legally filing a workers' comp claim and you have been fired, or you are concerned that you are going ot be fired, you need to talk to a lawyer as soon as possible.
Unfortunately, far too many employers take advantage of the fact that most employees do not realize their rights and will fail to take action. If an employer has already retaliated against you because you intended to file a workers' comp claim or actually filed a claim, you need a lawyer who has handled complicated cases like this before.
A final reason to contact a dedicated workers' compensation attorney is because you may have a third-party claim against someone else. Workers' compensation claims may involve multiple parties who are liable for your injuries and having an attorney to assist you with determining who can be held accountable in court is strongly recommended.  You may have been injured in a motor vehicle accident or on the job, or because of defective equipment, or your injuries may have been made worse due to medical malpractice.
Do not hesitate to get help from a Greenville workers compensation attorney if you have recently been injured on the job or contracted an illness as a result of your work-related responsibilities.