Beaufort, NC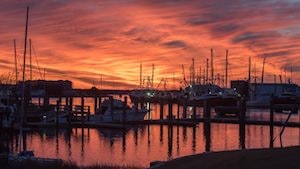 Coastal North Carolina is a special place. With its wonderful beaches and sleepy little towns, people from all over the United States flock to the region for the great seafood, water sports, and relaxed pace. It's flat-out a wonderful place to be.
Beaufort NC is the third oldest town in North Carolina, after Edenton and Bath, having been founded in 1704, which is two to three generations before the United States even declared independence from Great Britain. The county seat of Carteret County, Beaufort NC is part of what locals refer to as the Inner Banks of North Carolina.
Census records indicate 4,200 people live full-time in Beaufort NC, which may be a bit surprising given the relatively small footprint it covers in Carteret County. And while still "small town North Carolina" when compared to Greenville NC, Jacksonville, or the mega-cities like Charlotte and Raleigh, the number of people in Beaufort and surrounding towns, during peak vacation periods, can easily swell to over 100,000.
Beaufort NC booms during the summertime. In peak season, we see a substantial increase in the numbers of injuries as the result of car accidents and boating accidents. We also see increased NC Work Comp claims, with workers also flocking to Carteret County to work in service-related industries – Kevin Jones, NC Accident Lawyer
Law partner Kevin Jones grew up in Carteret County and attended East Carteret High School. He knows the difference between a Dingbatter and a Hoi Toider.
After attending college an UNC Chapel Hill, Kevin Jones earned his law degree at Campbell Law School (then in Buies Creek NC), and returned home to practice law as a personal injury attorney Carteret County NC. Kevin's wife is also a practicing lawyer in the area, and together with their two children, the Jones family lives in Morehead City NC.
What Do Accident and Injury Lawyers in Beaufort NC Do? What is a Personal Injury Lawyer?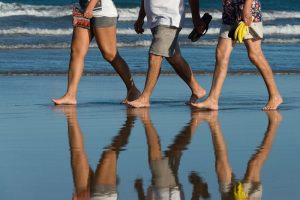 Our law firm focuses on litigation involving the mechanics of accidents and injuries. We advocate for people hurt in workplace accidents. We also bring legal claims for other types of money damages associated with losses due to 18 wheeler accidents, car accidents, catastrophic losses and wrongful death claims.
That means we help hurt people. We take-on often powerful, monied interests in North Carolina which may include insurance companies and employers. We prosecute "tort claims" in the District and Superior Court in North Carolina for claims of negligence. We also provide legal representation under the NC worker compensation laws, through the North Carolina Industrial Commission.
The Dodge Jones Injury Law Firm helps people injured in car accidents, jet ski accidents, boating accidents, and claims under the North Carolina Workers' Compensation Act. Put simply, we represent the "little guy" when they are hurt and are seeking compensation for their injuries.
What are Legal Fees for Personal Injury claims?
First, we charge nothing for legal consultations. That is entirely free, even if you decide to go another direction or choose not to pursue your legal claims.
We understand people hurt on the job in workplace accidents may fear the repercussions of bringing a claim from an employer. While it may not be legal under the NC employment laws and NC Workers' Compensation laws, some employers fire employees for making a claim.
We also understand that good decisions are made if you have good information. That means if you have questions about your NC Work Comp case, we'll provide answers and help guide you through the process.
How to File NC Work Comp Claims
If after hearing what we have to say, you decide not to move forward, that OK.
That's also why we want to make sure people seeking legal representation also understand everything we talk about is highly confidential. We will not share with anyone, especially your employer, that you consulted with our law firm and our personal injury lawyers.
In the event we are able to help, either by bringing a Work Comp claim or handling another type of legal matter involving the NC accident laws and claims of negligence, legal fees are set on a Contingent Fee or Contingency Fee basis.
Accident and injury lawyers get paid legal fees only upon obtaining a settlement or verdict. Our fees are a percentage of the recovery of damages, including lost wages, medical bills, and the expenses for treatment.
What are Legal Fees for Accident Cases?
That also means that if we aren't able to obtain a verdict or settlement, either before or after a trial or hearing, we get nothing. We charge no legal fees in those unfortunate circumstances.
That's also why we carefully consider what cases to take for legal representation, understanding we want to pursue claims that have merit. . .otherwise we don't get paid for our time and effort.
Now is the Time to Begin Your Legal Strategy
The Dodge Jones Personal Injury Law Firm has 5 convenient office locations to suit your needs. If you Googled, "Beaufort NC Lawyers" or "Lawyers Near Me Beaufort NC," we have you covered. If you're laid-up from work at home or in the hospital or a rehab center, we'll come to you. We want to make it easy on you and loved ones to ask questions and receive answers to your important legal questions.
If you've been injured on the job in Beaufort, North Carolina, Kevin Jones is here to help.