Discovery Violations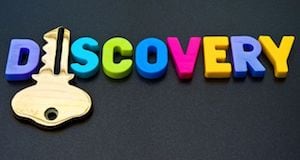 Resolving disputes through the court system requires preparation and adherence to the NC Rules of Civil Procedure.
There is a limited amount of court time available to resolve disputes involving car accidents, wrongful death claims, and other claims for damages.
Courts prefer to work in an efficient manner. It's better to have as many issues resolved before a trial setting.
Disclosure of information prior to litigation is a normal part of the process. That exchange of documents, materials, and information is called "Discovery" in North Carolina."
If you were injured in a wreck, you should expect to provide information to the insurance company for things like medical bills, lost wages, prior history of problems, etc.
It's not optional. It's part of making a claim for damages. If a lawsuit is filed, it is also required pursuant to the Rules of Civil Procedure.
Discovery applies to both the person hurt in the accident, the "Plaintiff" and the person who caused the wreck, the "Defendant."
Lawyers may refer to the Plaintiff and Defendant, collectively, as the parties or the parties to litigation.
The courts work to resolve disputes prior to arguing a matter to a jury of peers. Sharing and exchanging information is part of that process.
The hope is that Discovery allows for the timely disposition of matters not worthy of a trial and an efficient administration of justice.
North Carolina's Vestiges of Common Law
As one of the first 13 Colonies in the New World, North Carolina still has aspects of the British legal system.
Those laws and procedures are referred to as the Common Law. They are said to be the laws commonly known to everyone.
The Common Law applied both to legal theories as well as the manner in which claims are presented.
The law of "Torts" comes from the common law. A Tort is a civil wrong. It is different from criminal charges and criminal prosecutions.
Traditionally, the three general types of torts were:
Strict Liability (Product Liability)
Negligence
Interntional Torts
The primary remedy for a violation of the civil law is damages to the injured the party. The government, under criminal law, punishes crimes.
The standards of proof, in part because of the consequences, are different.
Matters in civil court must be proven by the Plaintiff by a preponderance of evidence.
In criminal court, the prosecutor must prove the defendant guilty beyond a reasonable doubt.
"A very important aspect of any lawsuit is good faith. People who seek relief must do so by being honest in their claims and fair in their dealings with others."

– Kevin Jones, New Bern Accident Lawyer
That's what lawyers refer to as the Clean Hands Doctrine.
Those who seek equity must proceed in an equitable, fair manner in resolving disputes in court.
What is Discovery?
Discovery is the process by which information is exchanged. That may include documents and the known facts of a cause of action.
There are several different formats or forms of discovery in North Carolina, including things like:
Depositions
Interrogatories
Production of Documents
Admissions
Discovery is often one of the more complicated, time-consuming aspects of any lawsuit.
That's true whether for a minor workplace accident or complicated semi-truck wrongful death claim.
Evidence serves the purpose of exchanging evidence before trial. The court system doesn't allow trial by ambush.
The parties to litigation, including both the Defendant and Plaintiff in a lawsuit, are required to present their position on the case.
That must be done in advance. In effect, they provide the evidence they have to support a claim for damages and the legal theory of the case, well in advance of trial.
The North Carolina Rules of Civil Procedure demand such process so as to avoid surprises, confusion, and unnecessary litigation.
It saves the very valuable commodity of court time.
The disclosure of information through discovery helps attorneys provide meaningful, relevant legal advice.
It also assists the litigants in making good decisions about whether to take a matter to trial or settle.
As such, discovery is very important to settlement negotiations and the decision-making process associated with settling vs. risking a trial.
"Our New Bern law firm works hard to gather evidence before litigation. In the long run it's better for the client and their claim for damages."

– Kevin Jones, Injury Lawyer
What are Discovery Sanctions?
Sanctions are generally thought to be punishments.
In criminal court, a sanction for breaking the law may be jail or probation.
In civil court, there are rules regarding how cases are litigated. In fact, prior to trial or appearing in court, there are mandatory procedures for a full and fair exchange of evidence.
The Doctrine of Clean Hands requires both parties in a lawsuit to play fair. They must be open in disclosing information and facts associated with a case.
Plaintiffs and Defendants must proceed with honesty, which includes providing information and evidence that may hurt their case.
That can be troubling at times, especially if the information sought is embarrassing and does not ultimately serve the disposition of the claims in court.
The Rules of Discovery mandate a full and complete disclosure of evidence.
Even if the materials submitted are "irrelevant," they may be something "discoverable" by legal counsel.
It's a broadly applied rule.
It is generally not a defense to claim evidence or materials is not "relevant."
The process of discovery allows for seeking materials that may lead to relevant evidence of a cause of action.
Such inquiries need only to be "reasonably calculated to lead to the discovery of admissible evidence."
Failing to comply with the Discovery Rules can result in sanctions imposed by the Court.
Not acting in good faith, failing to disclose evidence and documents, or hiding information can result in a dismissal of a claim or rejection, by the Court, of defenses to a cause of action.
The negative impact to the offending party can result in:
Striking Pleadings, including an Answer
Striking Defenses
Striking Counterclaims
Striking Cross-Claims
Rule 11 Fees, Including Attorneys Fees
Legal Issues and QuestionsDiscovery Violations – NC Rules of Civil Procedure
The trial judge is authorized to punish parties in litigation if they violate the NC Rules of Civil Procedure. (NC Gen State 1A-1)
Notice claiming discovery violations is required. The offending party must first be given "notice" in writing and further an opportunity to reply/respond.
Financial rights, which include access to the courts to resolve disputes, is a fundamental legal right.
As such, any time a fundamental Constitutional Right may be affected by an action of the Court (the Judge), the law requires application of Due Process of Law.
One cannot be deprived of liberty or property without Due Process Under the Law.
It's a guarantee under the US Constitution and the Fourteenth Amendment. (North Carolina has its own constitution, but similarly requires a fair and even application of the laws.)
Prior to Ordering a sanction for violating the Rules of Discovery in North Carolina, the offending party must be warned of possible penalties or Discovery Sanctions.
The offending party must also be given the opportunity to he heard and respond to the allegations.
It is not a criminal charge.
The basis for discovery sanctions is required to be provided in advance. That advance warning is called, "Notice."
Courts in North Carolina also have what is called, "inherent disciplinary authority" to manage legal matters before them (in front of the Judge or for the Judge's consideration). Williams vs. Hinton, 127 NC App 421 (1997).
Judges are said to have "ample power" to control attorneys in court and also prior to court as part of pre-trial discovery.
That power includes the discipline of the court and the power to hold the parties in Contempt of Court.
Pursuant to the Rule 37 of the NC Rules of Civil Procedure, the party moving for sanctions (the aggrieved party claiming violations of the Rules of Discovery), is required to send written notice of the Discovery Violation.
The moving party must also pray for a certain form of relief for such violation. They are required to set forth the proposed sanction for the complained-of violation.
The written notice must therefore "clearly indicate" they seek sanctions. The offending party must be warned or "fore-warned," which is another way of saying they were warned beforehand.
Due Process demands the party defending the allegation or allegations be given the opportunity to respond and defendant against the assertions.
Due process is a right that must be made knowingly, intelligently, and voluntarily.
New Bern Accident Lawyers – Dodge Jones Injury Law Firm
What may seem like a simple accident can turn complicated if there is a dispute regarding the cause of the collision.
Even if the person who caused the wreck jumps out of their car and apologizes, there may be legal defenses to a claim for damages.
Insurance adjusters, and the companies they represent, do not serve as your personal representative. They are not looking out for your best interests.
It often helps to seek legal representation.
Plaintiff's lawyers can help gather evidence. They can request accident reports. They can also go to the scene, talk to witness, obtain statements, and photograph the vehicles involved.
That's hard to do if your laid up in the hospital or stuck in bed at home, trying to get better.
If you or someone you love was hurt in a car accident caused by someone else, we're available consultation.
If possible, we'd like to help explain the process and your legal rights.
You may reach Kevin Jones at: Kevin@DodgeJones.com
Call NOW to schedule your complementary consultation: 877-622-6671