There's a reason why texting while driving is illegal in North Carolina.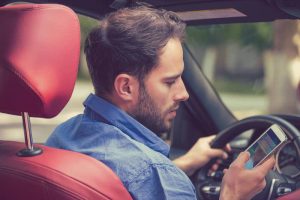 It's incredibly dangerous, predictably resulting in car accidents, wrongful death claims, and lives ruined.
The National Highway Traffic Administration or "NHTSA" estimates "distracted driving," which includes texting while driving, accounts for a substantial number of accident-related fatalities on our highways.
In fact, some experts in highway traffic safety believe texting while driving may be more dangerous than "drunk driving."
Despite being a known risk, motorists continue to text and drive.  That's particularly true for younger drivers – Kevin Jones, NC Accident Lawyer
Distracted drivers are also thought to comprise a larger percentage of the driving public.
With more people texting while driving than DUI or DWI, the statistics are sobering.
Somewhere in the range of 23,000 accidents resulting in fatality may be attributed to distracted driving from 2013 to 2018.
The number of accidents caused by texting while driving, those not resulting in death, are hard to calculate because of underreporting.
Motorists know of the dangers and still check their phones.
They very much understand what happens when you take your eyes off the roadway and take a chance, putting the health and safety of others at risk.
Knowing the public disdain for texting while driving, even when guilty of the practice, few people own up to it – Kevin Jones, New Bern Accident Lawyer
It is so dangerous that 48 of the 50 states have texting while driving laws. Puerto Rico, the Virgin Islands, Guam, an Washington DC also have enacted legislation banning the practice.
Texting while driving in NC, it's illegal  
There are consequences to texting while driving in North Carolina.
It is a violation of the motor vehicle laws and may result in the issuance of a ticket.
We believe it is negligent if not grossly negligent to text while drive, understanding the statute specifically excludes the practice as per se negligent.
The results of taking your eyes off the roadway, not paying attention, and distracted driving are easily foreseeable.
The likelihood of injury to persons or property, and foreseeability of deadly accidents caused by texting by driving, are substantial if not reckless.
Distracted driving is not limited solely to texts or texting.
Why you should have a Dash Cam
Sending and checking emails, social media posting on Instagram, Snapchat, and Facebook all constitute "distracted driving."
The NC texting laws can be somewhat confusing.  The law prohibiting texting while driving allow for certain exceptions.
As an example, checking and sending texts and emails may be allowed if accomplished by use of "voice-operated" technology.
In prosecutions by the State for traffic tickets and lawsuits brought by those injured due to the negligence or gross negligence of others, lawyers understand reading texts in-and-of-itself is dangerous.
Truth be told, there are very few applications that allow purely voice-operated communications to listen to and respond to text messages and emails.  Almost invariably, even if using Siri, people take their eyes off the roadway and stop paying attention – Kevin Jones, Greenville NC Lawyer
The law prohibiting texting while driving establishes that it is illegal to:
Operate a motor vehicle (car, truck, motorcycle, etc.), while on a public street, public vehicular area, and/or highway, while using a mobile device to

Enter, manually, "multiple letters" on the phone or texting on the device to communicate OR
Read text messages, emails, and other electronic media, even without replying or typing-in a response
The North Carolina Motor Vehicle Law in 20-137.4A(a) allows the manual entry of letters if the vehicle is parked.
An important exception to the texting law in North Carolina involves ambulance drivers, including those publicly maintained or privately owned, fire department, and law enforcement officers.
What are Legal Fees for Motor Vehicle Accident Cases?
Such personnel are authorized to text while driving if in the scope of their official duties.
Frankly, I don't think that makes it any less dangerous.  Indeed, in the event of an emergency when police and EMS personnel may be speeding, texting is substantially more dangerous – Kevin Jones, Personal Injury Lawyer Jacksonville NC
It's important to understand that even if not technically a violation of the motor vehicle laws of North Carolina, texting while driving by law enforcement personnel may be prohibited by department policy and official procedures.
Even if it not the basis to issue a ticket, negligence claims may arise out of texting while driving by police officers, fire department officials, emergency medical personnel, and other representatives of the state who are acting in their official capacity.
When Should I See a Doctor After an Accident?
Each case is different.  If you've been injured due to texting while driving, even if by official personnel, consult an accident attorney without delay.
Global Positioning Systems, whether those installed by the vehicle manufacturer at a factory or those later purchased after-market, are protected under NCGS 20-137.4A.
That's true also for devices deemed for the purpose of "wireless communications" and dispatch systems used to transmit and receive data.
And, as stated, technologies using voice-only technology may be allowed under the texting laws in NC.
NC Accident Attorney
If you've been injured because someone else didn't want to follow the law and put your life at risk, call the Dodge Jones Injury Law Firm.
We help people who have been injured due to negligence and gross negligence.
We serve as legal counsel to plaintiffs in personal injury claims in North Carolina.
Call now to schedule a free consultation:  877-622-6671
You may also reach Kevin Jones, email him now at:  Kevin@DodgeJones.com