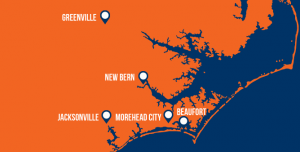 Eastern NC Workers' Compensation Lawyer – Kevin Jones
Hurt on the job?
Work injuries are a serious matter and shouldn't be taken lightly. Every action you take following your injury can ultimately affect your ability to recover and continue working. That's why it's crucial that you understand what to do (and what not to do) if you become hurt on the job.
If you've sustained a work-related injury, here's what you need to know:
First Steps After Being Hurt on the Job 
Alert Your Supervisor
Get Medical Attention
Document the Event
Consult With an Attorney
Following the above first steps provides a good foundation for handling your work-related injury. However, these aren't a guarantee you'll receive the appropriate compensation for your medical bills, and lost wages, and permanent injuries. 
First, if you're contacted by an insurance adjuster, keep a good record of the call. Ask for their name, note the date and time of the call, and write down details, even if you don't think these details will be important later.
It's a good idea to write down any details you can remember regarding the event. Take pictures of the accident site as soon as possible, if you are able. These things can later be used to help you recall important information.
Kevin Jones's insight:
Getting hurt on the job can have devastating consequences to both your health and finances. While filing a claim may not fully undo the damage caused by your injury, alleviating some of the associated financial burdens can provide a welcomed step toward healing.
Contact Dodge Jones today to schedule a free, confidential consultation. Together, we can help ensure you receive the compensation you deserve.