The Workers' Compensation Laws in North Carolina help employees who are injured on the job or suffer job-related illnesses.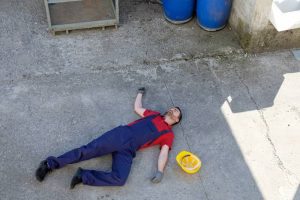 Work Comp insurance often covers medical treatment, including emergency rooms costs, physical therapy, and medications.  It also replaces lost wages and compensates employees for permanent injuries resulting from workplace accidents.     
 The Work Comp laws in NC are set forth within Chapter 97, Article 1 of the North Carolina Workers' Compensation Act.  If you have been injured at work, the Work Comp Act may apply (cover your injury) even if your employer says otherwise.   
 We help people who have been hurt at work and can let you know pretty quickly whether you are covered by Workers Compensation – Kevin Jones, NC Workers Comp Lawyer  
Who is covered under Workers' Comp in North Carolina? 
Businesses including sole proprietorships, partnerships, corporations, LLC Limited Liability Companies who employee three (3) or more employees are subject to the NC Workers Comp Act.  As such, employers must either purchase Workers' Compensation insurance or qualify under the law as "self-insured."  
There are important exceptions to the law and who is covered by Workers Compensation in NC, including:  
Domestic workers employed directly within a household

 

Certain railroad employees

 

"Casual Employees"

 

Federal Government employees who work in North Carolina

 

Certain "Sellers of Agricultural Products"

 

Farm Laborers / Farm Workers at farms who employ fewer than ten (10) non-seasonal, full-time farm laborers who are employed regularly by the same employer

 
Places of work that employ one (1) or more employees whose work is in the presence of radiation or involves the use of radiation are required to have Work Comp coverage.   
Employees who are members of limited liability companies (LLCs), partners in a company, or sole proprietors are not automatically considered employees.  Officers of a corporation may choose to be excluded from Work Comp coverage.  Officers are still counted, even if electing not to be covered, in determining whether the NC Work Comp Act applies (3 or more employees).   
Committee Members, Directors, and Executive Officers of 501(c)(3) and other not-for-profit organizations are similarly not automatically covered or counted as employees.   
Can an employer refuse to cover a workplace injury?  
The Work Comp Act in North Carolina is intended to protect employees and is generally thought to be inclusive/expansive in nature.  Employers are required to provide a safe work environment to employees.   Denial of a claim or failure to carry insurance, if required, is against the law in North Carolina and can subject the employer to harsh penalties.  
The NC Work Comp Laws do not allow for "creative" efforts to avoid the law.  
The employer is not relieved under its responsibility under the Act (or legal liability) by simply calling an employee an "Independent Contractor."  Even if the employer issues a 1099 Tax Form and refers to employees as Independent Contractors, the NC Industrial Commission may deem workers "employees."   
What is Covered under the NC Workmans Compensation Laws? 
Work Comp benefits in North Carolina include things such as: 
Medical Treatment – The costs associated with medical treatment and follow-up care are covered for work-related illnesses and on-the-job injuries.  The employer or the Work Comp insurance company may choose the doctor and health care providers.  

 

Physical Therapy, Surgeries, Medications – Coverage for medical treatment often includes the costs of an ambulance, EMT, Emergency Room, and hospitalization.  If surgery is required, the costs for the procedure, including anesthesia, medications, and aftercare may be covered under the NC Work Comp laws. 

 

Death Benefits – If an employee dies as a result of a work-related accident, funeral expenses and burial costs may be covered.  The family of the employee and/or the employee's beneficiaries may be entitled to other death benefits including financial compensation.  

 

Lost Wages – Time off from work due to a work-related illness or injury is covered by the Act.  If the employee misses work for more than a week (seven days), temporary disability benefits may extend up to five hundred (500) weeks depending on when the accident/injury takes place. 

 
What is Ongoing Care? 
A workplace injury may require the employee to receive continued care and treatment like physical therapy.  Rehabilitation, including appliances like crutches, wheelchairs, braces, slings, medications, and casts may also be covered under the Act.   
Are Repetitive Motion Injuries Covered? 
Workplace injuries may take place over time or occur due to repetitive motions.  There isn't always a single accident or incident.  Repetitive motion injuries at work can take a long time to develop and therefore are subject to scrutiny to determine whether the injury is in fact job-related.
Is Long Term Disability a part of Workers' Compensation? 
Some on the job injuries are bad enough and result in permanent injuries that the employee may not ever be able to return to the job.  It is also possible the employee may work but in a different role or job capacity.