Do trucking companies have Work Comp Insurance? Does it cover injury or illness that takes place during the course and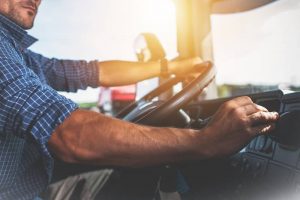 scope of employment?
The NC Workers' Compensation laws require insurance coverage to protect trucking operators and trucking owners, even if the owner/operator is considered to be an "independent contractor."
If the operator owner does not have insurance specifically for on-the-job injuries, the motor carrier is required under the law to provide coverage for workers' compensation claims. "Coverage" is required for subcontractors, intermediate contractors, and principal contractors.
That's true whether or not the contractors (sub, intermediate, and principal) regularly employ 3 or more employees. Workers' compensation benefits are intended to cover employees hurt on-on-job, including those involved in trucking.
On the other hand, a motor carrier (the employer) may not be liable for workplace injuries and work-related injuries of a truly independent contractor that meets the following requirements:
The IC – Independent Contractor is licensed by the US DOT – Department of Transportation AND
The IC personally operates the truck (vehicle)
See North Carolina General Statute § 97-19.1
It's important to understand that OAI – Occupational Accident Insurance is different from Worker's Compensation Insurance. It is not a legal substitute for NC Workmen Compensation Insurance.
OAI covers certain types of specific injuries. It also pays only a certain amount of money that is based upon the contract of insurance. As such it is limited in scope and application. It is separate and apart from Workers Comp benefits or employees injured on the job.
That's different from Workers' Compensation Insurance in North Carolina.
Occupational Accident Insurance is subject to regulations (regulated) by the NC DOI – North Carolina Department of Insurance.
Contractors, Owner-Operators, and Motor Carries may decide to carry OAI in NC. The law does not require them to do so.
What happens if my employer does not have workers' compensation insurance?
That's likely against the law in North Carolina.
Employers are generally required to either be covered under what is called a "self-insurance" plan or to purchase Work Comp Insurance.
The employee may report the failure to have Workers' Compensation Insurance (or the lack of an appropriate self-insurance plan that is approved under the law) to the North Carolina Industrial Commission (NCIC) Criminal Investigations and Employee Classification Division.
If you are injured and your employer does not have Workers' Compensation Insurance, it may be appropriate to prepare and file a Form 18 and Form 33 with the Industrial Commission.
Our law firm may be able to assist in filing the required forms and paperwork with the IC – Industrial Commission. Given important legal rights can be at issue, we strongly recommend you seek legal counsel immediately.
Will I lose my job if I file a claim? 
Attorney Kevin Jones at the Dodge Jones Injury Law Firm is available for legal consultation and to answer your questions about Work Comp claims and insurance issues.
What should I do after an accident when an injury occurs?
Obviously, make sure you are safe and not subject to additional injuries or harm.
Once it is safe t do so, you should report your injury to your employer. That should be done so immediately both in writing and orally (telling your employer you have been injured). Again, that should be done immediately and "in any event" within thirty (30) days.
How do I find out who the Insurance Carrier is for my employer?
There are several different ways to find out who the insurance company may be:
You can file  Form 18 making a claim for your injury against your employer
Look Online:  Insurance Coverage Search System
The Insurance Carrier or your Employer has filed a Form 19 with the IC – Industrial Commission that reports your injury
The NCIC – North Carolina Industrial Commission will send what is called an "acknowledgment letter" when Form 18 is filed and processed. The acknowledgment letter will provide information about the insurance carrier.
Don't worry, you are not required to know the Employer's Insurance Company information when you file a Form 18 with the IC.