Negligence is a fairly common term.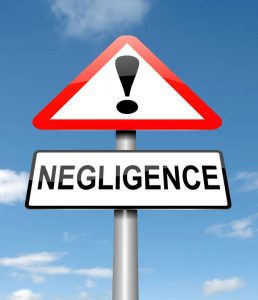 It is the failure to take proper care when doing something.
This can happen in all sorts of scenarios – driving your car, riding a bicycle, or even just walking down a road.
All that needs to happen is for someone to have failed to take a basic level of precaution and, as a result, you have been hurt and suffered damages.
Acting reasonably is the key.  Putting thought into how you drive a car is a duty we owe one-another – Kevin Jones, New Bern Accident Lawyer
That's what lawyers mean when they refer to a personal injury claim.
It's a claim for damages due to negligence and the failure to take proper care.
Is Texting While Driving Reckless Driving? 
It also means someone is considered responsible and therefore liable for the injuries because they failed to take proper precautions to avoid those injuries.
What is Reasonable Caution?
Under the law, the standard level of caution, or standard of care in legal jargon, that must be taken is generally determined by whether or not it was reasonable to do so.
It's a lot like the Golden Rule.
Do unto others as you'd have them do unto you.
Essential Elements of Negligence Claims in NC
Basically, it means we're all supposed to be careful and treat others as we'd like to be treated.
The amount of caution that should be taken into account is based on the circumstances.
So, generally, we owe each other the duty to take reasonable precautions when doing things around others or that might impact others.
In other words, the law requires that we all owe each other a duty of reasonable care and to act responsibly.
Negligence claims in North Carolina are centered on personal responsibility, acting reasonably, and considering the rights and safety of others in what we do.
This duty is generally based on what the circumstances show a person should do to avoid hurting others.
It's one thing to hurt yourself by acting negligently.
The law in North Carolina requires we also consider others.
That makes sense.
Standard of Care – Car Accidents
The legal duty to others requires that when you're driving you're not texting or doing makeup or really anything else that's distracting you from safely driving.
It also means that during bad weather, like ice or snow or rain, you adjust your driving habits consistent with the safe operation of the vehicle.
You don't have to be barreling down the road at 90 mph or reckless driving.
Rules of Road for Emergency Vehicles 
If it's icy or visibility is reduced, the posted speed limit may in fact be too fast for the then-existing conditions.
Failing to reduce speed could mean that a jury might find someone acted negligently and therefore legally liable for your injuries.
In other words, it means the responsible party (accident lawyers may refer to them as the tortfeasor) failed to take reasonable precautions to avoid hurting you and your passengers.
What is Liability?
Liability is just a fancy word meaning the negligent party is responsible for something – usually, injuries.
In order to be liable, it has to be proven that someone didn't act reasonably and that their failure to do so caused the injuries.
Injuries, depending on the type, nature, and extent, may result in money damages.
Fair compensation for injuries sustained in an accident that is caused by negligence may include things like:
EMT – Medic / Ambulance Fees
ER – Emergency Room Treatment
Surgery
Anesthesia
Hospital Stay
Medication
Physical Therapy
Lost Wages
Permanent Injuries

Scarring
Disfigurement
Loss of Range of Motion
Loss of Quality of Life

Pain
Suffering
If there is no connection between the negligent act and the harm, there may not be a legal liability.
Dodge Jones Law Firm – NC Accident Lawyers
If you or someone you love has been injured due to a negligent act, we'd like to help.
Plaintiffs Lawyers help hold the tortfeasor accountable for failing to heed common sense and apply reasonable standards in acting safely.
We undertake cases for representation when we believe a legitimate cause of action exists.  Our goal is to make you whole and obtain full and fair compensation for your injuries and losses – Kevin Jones, Accident Lawyer Greenville NC 
We provide a confidential consultation for negligence claims in North Carolina.
Our firm helps people in places like Morehead City, Beaufort, Jacksonville NC, and Greenville, and throughout southeastern North Carolina.
Legal claims for negligence in North Carolina are subject to a Statute of Limitations.
Failure to bring a cause of action may result in the waiver of your right to recover damages or obtain compensation for damages resulting from an accident.