Hurt at Work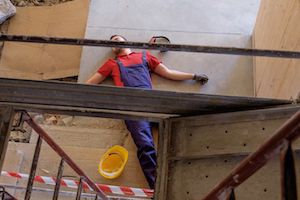 In North Carolina, it doesn't much matter if you were injured through the negligence of a co-worker. If you are Hurt at Work, there is a good chance you're covered under the NC Workers' compensation Laws.
There is a reason for that: The North Carolina General Assembly wants to remove "work comp" cases from the normal litigation process in our judicial system. It's thought to be both more efficient and fairer to both parties.
At the same time, it helps to have an experienced workers' compensation attorney by your side to protect your best interests. Filing a comp claim and understanding the nuances of the law, and potential problem areas associated with workplace injuries, has become increasingly complex in NC.
That's especially true if you were hurt at work and suffered a Traumatic Brain Injury "TBI," spinal injury, or other catastrophic loss, disfigurement, or loss of limb.
Kevin Jones is a board-certified workers' compensation specialist in North Carolina. If you or someone you love needs legal help involving personal injury sustained during an on the job accident, he's here to help.
That's true too if you're going through the tragedy of a workplace fatality. With 30 years practical experience helping people in eastern North Carolina, Kevin Jones is on your side. Call NOW for a free in-person consultation at your home, hospital, or center for rehabilitation.
What Should I Do if I was Hurt on the Job?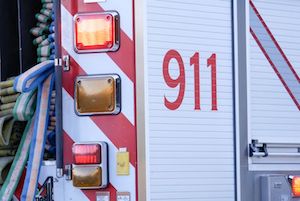 While there may be important filing requirements or the need to provide "notice" of an injury to your employer, the single most important thing to do if seriously injured at work is to seek immediate medical care.
Reasonable efforts should be made to let your supervisor and employer know you were hurt. That may involve asking for assistance or calling 911 or an ambulance.
But there are times when that just isn't possible. If you sustained a life-threatening injury or loss of consciousness, it's imperative to seek emergency medical treatment to avoid further injury, damages, or losses.
Am I Required to Give a Recorded Statement?
There often is some requirement to provide proper notice of a workplace injury claim. Whether or not that requires a "recorded statement" by an insurance adjustor or not is another issue.
There are several important things to consider before doing so:
It's OK, if not preferable, to speak with a Work Comp lawyer prior to giving a formal written or recorded statement
Insurance Adjustors for the employer protect their best interests, not yours
Insurance Companies and "self-insured" employers save money by limiting claims and paying less than what may be appropriate
What you tell your personal injury attorney in North Carolina is protected by something lawyers call attorney-client privilege. That means what you tell us is strictly confidential. Even if you choose not to retain our services for legal representation, the privilege remains.
"It's absolutely OK to get information and decide NOT to proceed forward with filing a claim. We understand there may be a lot going on in your life and a workplace injury could have consequences to your job."

– Kevin Jones, Workers' compensation Attorney
What Does My Work Comp Lawyer Need?
Frankly, we don't need much more than your time, at least to start. That's because we'll want to sit down with you and talk first.
One of the beginning steps in seeking legal representation involves getting information about the NC comp laws and explaining to you how claims are filed. That may require obtaining paperwork, medical documentation, and filing legal forms at a later time.
But to start, what we're most interested in is talking to you, answering legal questions, and determining whether it's both smart and legally appropriate for you to file a NC comp case.
Plaintiffs' lawyers in North Carolina, attorneys who help clients with losses and injuries, are generally paid on a Contingent Fee basis. That means if we don't recover compensation for losses or damages, we don't get a legal fee.
You may have heard that called a contingency fee. It's also why we must be careful in case selection. Contrary to what may be spun by insurance companies, PI attorneys only get paid for bringing good cases. If there isn't a case, it's not worth your time or ours to pursue damages against your employer or their insurance company.
So, it's a good idea, both for the sake of our law firm and our client's best interest to make sure there is a legitimate basis to file a comp claim. Only then does it make sense to pursue an action through the Industrial Commission or other legal avenue provided pursuant to the North Carolina Workers' Compensation Act.