Construction Site Accidents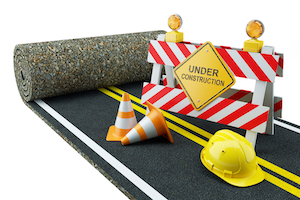 Anyone who does construction work and is "on site" day-in-day-out knows it can be a pretty dangerous place.
Even if you're paying attention to your work and what you're doing, you can't always see a co-worker engaged in a heavy lift or swinging the arm around on a backhoe.
A fair number of injuries are caused by someone else not being careful or paying attention.
Construction site accidents are some of the most common Workers' Compensation claims in North Carolina.
"Construction injuries range from minor to very serious, if not life altering. Job site accidents and related wrongful death claims are a major part of our practice."

- Kevin Jones, NC Work Comp Lawyer
Safety issues within the construction industry are an ongoing concern to both federal and state regulatory agencies and OSHA laws.
Despite efforts to make construction work safer by requiring things like hard hats, steel-toed boots, and safety glasses/goggles, people are regularly injured and occasionally killed on the job.
What Does Course of Employment Mean?
In some instances, depending on the job and nature of the project, some sites are more inherently dangerous.
That's particularly true for large projects with heavy equipment, cranes, and bigtime concrete pours with a lot of open rebar.
Job sites can be slippery and wet from rain, concrete pours, and water and sewer work.
Any time there are multi-story projects, there are always dangers associated with falling items from above and high falls.
Under the NC Workman Compensation laws, as some still call it, on-site and on-the-job injuries are often covered under Chapter 97 of the Workers' Compensation Act.
What are Common Construction Injuries?
Whether you do residential work or major commercial projects, construction sites are some the most dangerous workplaces in North Carolina.
"Metrics indicate certain age groups and worker populations are more adversely affected (hurt) by in workplace injuries. The numbers of fatalities are tragic."

- Kevin Jones, Workers Compensation Lawyer NC
Job sites are busy places with a lot going on. It can be a dusty, loud, and confusing environment in which to work.
Should I Trust the Company Doctor?
It's easy not to see or hear trouble coming.
Common construction injuries and the related accidents include things like:
Falls and Slips for Ladders, Scaffolding, and Beams
Falling items from above
Cuts, lacerations, avulsions, and abrasions
Being hit by backhoes, trucks, tractors, and excavation equipment
Shocks and Electrocution
Toxic materials / substance exposure
Repetitive Motion Injuries
Back Injuries / Accidents Related Heavy Lifting
Heat Stroke
Loss of Hearing
Loss of Vision / Loss of Eye
Loss of Limb, Fingers, Hand, Toes, and Feet
Fractured, Crushed, and Broken Bones
Defective Equipment
"As an eastern and coastal law firm, we see our fair share of clients hurt in processing plants, diving and boating accidents, and those who work in the seafood industry and farming."

- Kevin Jones, Greenville NC Lawyer
If you or someone you love has been injured in a construction accident or other on the job accident, seek medical treatment immediately.
As soon as possible, make certain your manager, supervisor, risk officer, and corporate office are aware of your accident and injuries.
"We think it's a good idea to get a Work Comp lawyer involved right away. It's imperative to properly protect your legal rights."

- Kevin Jones, NC Workmen Compensation Lawyer
Who is Responsible for a Workplace Injury?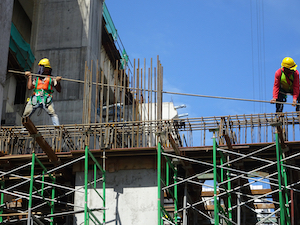 Construction projects can be a bit different given there may be a General Contractor and "subs" (subcontractors) involved.
That's particularly true for larger sites and major commercial projects.
Even with a residential project, it's not unusual to have several different trades working at the same time, including framers, electrical, heating and air, concrete, sheetrock, and landscaping.
Each type of trade and job tends to be prone to certain types of injuries.
And while the goal is to get the job done quickly, sometimes the GC – General Contract is trying to manage several different "subs" at the same time and isn't always on top of things.
Some injuries on the job take place when one subcontractor doesn't make another subcontractor and their employees aware of a danger.
For example, if the electrical contractor don't share the fact that lines are "hot," it's all too easy for someone to be electrocuted and possibly killed.
Part of the job of your Workers' Compensation lawyer is to determine who is responsible and, in certain circumstances, whether anyone was negligent.
In some instances, legal liability may extend beyond just your boss.
"Determining legal liability and who is responsible, can be a key aspect of your claim."

- Kevin Jones, Jacksonville NC Work Comp Lawyer
That involves looking into who has control over the job site and to some extent, supervisory authority.
If you have questions about your case and would like to know more about the value of any claim(s), contact Kevin Jones now: Kevin@DodgeJones.com