Workers' Compensation Claims Involving Amputation
Loss of Limb claims under the NC Workers' Compensation Act can be relatively complicated. Legal issues involving dismemberment, amputation, scarring, and disfigurement demand special consideration of the long-term consequences.
You may be entitled to compensation for both lost wages and the amputation, together with coverage for medical expenses, surgical procedures, physical therapy, and prosthetics.
Depending on the nature and severity of the injury, that may include reimbursement for past wages at the average weekly rate, together with those associated with a permanent partial disability due to loss of range of motion or the ability to do your job.
The type and level of loss of the particular body part often becomes important to consider.
According to WebMD, approximately 1.8 million people in the United States live with amputations. The most common amputation is a leg amputation. That may take place above or below the knee joint.
For example, a lower-leg injury below the knee can be relatively straight-forward, assuming there is full use of the knee joint after amputation.
If there is damage the soft tissues that enter the knee joint, full use may be forever precluded thus resulting in legal protection as loss of the entire leg.
Ability to work and function in the future are extremely important considerations, especially in instances where a finger or hand is lost that is necessary to perform basic job functions.
It is not difficult to understand, loss of a thumb may be more serious than amputation of a pinky finger, depending on the type of job you do.
Treatment for Amputation Cases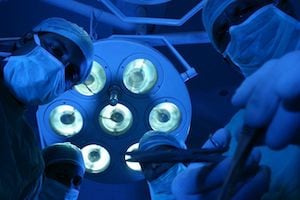 Amputation cases that involve workplace accidents require careful consideration of factors not normally associated with a standard Work Comp Claim.
Where there is an amputation, it is not unusual to experience permanent nerve damage. Some people may develop, over time, phantom pain or substantial, persistent nerve damage pain, requiring return visits to the doctor, additional treatments, and even surgical procedures.
The period of hospitalization following an amputation may be as short as five days and go up to 14 days or more, depending on the complexity of the surgical procedure, complications, and possible infection issues.
Indeed, some surgeons prefer to keep the amputation site open for several ways, waiting to determine whether a need exists to excise addition tissue.
That restorative process may take place months after the amputation itself, requiring tissue removal and hardware installation (prosthetics) to resolve the symptoms of the pain, discomfort, and the associated loss of mobility.
Recovery can be substantial, especially if there is a pre-existing medical condition such as diabetes, atherosclerosis, and arterial plaques.
One issue workmens compensation lawyers seem to regularly encounter is insurance companies who want to by the cheapest prosthetic device out there.
Sometimes special, artificial limbs are necessary to return function of a body part, allowing the employee to get back to work. In recent years, we have seen an increasing number of disputes involving a "computerized joint."
That's where a computer allows the artificial joint to work more naturally and function better on a day-in-day-out basis. They are more expensive and therefore some employers and their Workers' Compensation Insurance adjustors dispute the need for such specialized hardware.
Furthermore, it's not unusual that an amputee may require more than one type of prosthetic device, where one prothesis is used for everyday tasks and another prothesis is required to perform work duties and specialized task required for a job but unable to be performed due to the amputation.
Pressure to "Close the Comp Claim"
Any substantial injury that results from a workplace injury can take weeks, months, and years to resolve. Resolution does not necessarily always mean the same thing as "complete recovery."
The full, long-term impact of a life-changing injury may only be determined after a series of surgical procedures and follow-up aftercare. Obviously, we want you to achieve a 100% recover.
That does not always happen.
Indeed, some injuries never fully resolve. Things change. You may require some level of care for the rest of your life.
That applies also to ambulatory care, where several prosthetic devices may be necessary of the course of a lifetime. With amputations, the stability of the amputation site is key.
Ideally, the post-amputation would site would heal somewhere between four and eight weeks. The emotional and physical adjustment to a loss of limb can last substantially longer than that.
Post-surgical care and treatment may include things like:
Emotional, Psychological, and Psychiatric support for adjustment to the loss of limb, grief, and adjusting to life without a limb
Help learning how to use assistive devices and artificial limbs
Physical therapy to help restore and improve control and muscle strength
Occupational therapy to help with managing daily activities, promote health, and prevent future injuries
Related Workmens Compensation Legal IssuesNorth Carolina Workers' Compensation Lawyer – Kevin Jones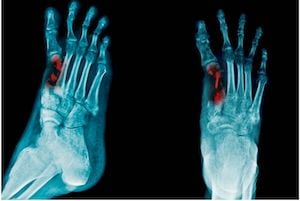 If you or a loved one has suffered a substantial injury or loss due to a workplace injury, we are here to help. There can be a lot to consider, especially if you're dealing with the physical and emotional trauma of an amputation.
We encourage you to call now and schedule your complementary consultation. Don't worry about it if you're still in the hospital or are busy doing physical therapy.
We'll come to you.
It's imperative to proceed carefully and without delay. Timing can be key. That's especially true to properly making a claim under the North Carolina Workers' Compensation Act.
We help people in coastal North Carolina. If you were hurt at work in Jacksonville NC, Greenville NC, New Bern, Beaufort, or Morehead City, we have several office locations to make the process easy.
Everything you tell our staff is strictly confidential. It costs nothing to call our law office and ask questions.
You will not be pressured to retain our firm. You also will not be pressured to even make a claim. We want you to have information. It's important you know and understand your legal rights before making any type of decision.
Call NOW.
You may also reach Kevin Jones by emailing him at: Kevin@DodgeJones.com